Double Apple 10ml by Cambridge Labs Salt: A Refreshing Vaping Experience
Vaping has become an increasingly popular alternative to traditional smoking, offering a wide range of flavors and nicotine strengths to suit individual preferences. As a vaping enthusiast, I've had the opportunity to try out numerous e-liquids, and today I want to share my thoughts on the Double Apple 10ml by Cambridge Labs Salt.
This particular e-liquid caught my attention due to its promising flavor profile and the reputation of the manufacturer.
Introducing Double Apple 10ml by Cambridge Labs Salt
If you're a fan of fruity flavors, then the Double Apple 10ml by Cambridge Labs Salt is worth considering. Packed in a convenient 10ml bottle, this e-liquid offers a delightful blend of crisp green apples and sweet red apples, providing a burst of refreshing flavor with every inhale. The use of salt nicotine enhances the overall experience, delivering a smooth and satisfying throat hit.
A Captivating Flavor Experience
When it comes to e-liquids, flavor is paramount, and the Double Apple by Cambridge Labs Salt certainly delivers in this regard. Upon taking my first puff, I was immediately greeted with the vibrant and authentic taste of freshly picked apples.
The combination of green and red apple flavors creates a perfect balance, where the tartness of the green apple complements the natural sweetness of the red apple.What sets this e-liquid apart from others I've tried is the attention to detail in capturing the true essence of apples.
The flavor is not overly artificial or synthetic, but rather evokes the experience of taking a bite out of a juicy apple, leaving a crisp and refreshing sensation in your mouth. It's the kind of flavor that keeps you coming back for more.
Smooth Vapor Production
In addition to its captivating flavor, the Double Apple 10ml by Cambridge Labs Salt boasts impressive vapor production. The carefully crafted formula ensures a smooth and consistent vape, allowing you to enjoy dense clouds without any harshness or throat irritation.
The salt nicotine content further enhances the overall vaping experience, providing a more satisfying hit compared to traditional freebase nicotine e-liquids.
Suitable Nicotine Strength for a Satisfying Vape
Nicotine strength is an important consideration for vapers, as it directly impacts the level of satisfaction derived from each puff. The Double Apple 10ml by Cambridge Labs Salt is available in various nicotine strengths, allowing you to choose the one that suits your preferences best. Whether you prefer a stronger hit or a milder experience, there's an option for everyone.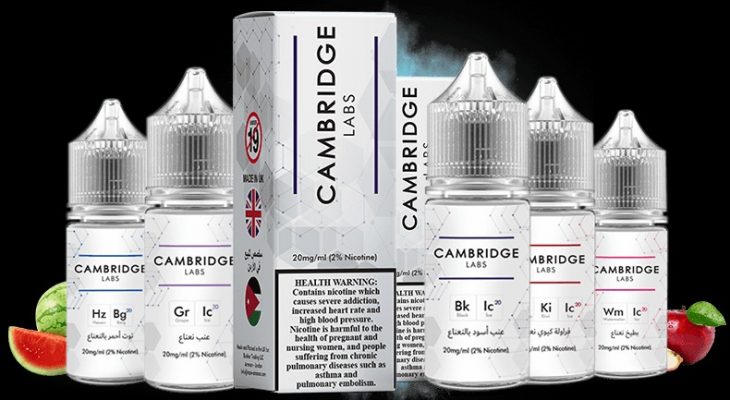 I particularly appreciate the smoothness of the nicotine delivery in this e-liquid. It provides a pleasant throat hit without any harshness, making it an excellent choice for vapers who may be transitioning from traditional cigarettes and are looking for a satisfying alternative.
Pros and Cons : Double Apple 10ml by Cambridge Labs Salt
Now let's summarize the pros and cons of the Double Apple 10ml by Cambridge Labs Salt:
Pros:
Refreshing blend of crisp green and sweet red apples
Authentic, true-to-life flavor
Smooth and satisfying throat hit
Cons:
Limited bottle size (10ml)
In conclusion, the Double Apple 10ml by Cambridge Labs Salt is an exceptional e-liquid that offers a refreshing vaping experience. The captivating blend of green and red apples provides an authentic flavor that is sure to satisfy fruit enthusiasts. With its smooth vapor production and suitable nicotine strength options, this e-liquid delivers a satisfying throat hit without any harshness.
The only downside is the limited bottle size, but with such an enjoyable flavor, you'll likely find yourself restocking on this e-liquid sooner than you think.