Blue Razz by Maskking High Pro is refreshing taste of raspberry infused with the chilling menthol effect.
Maskking High Pro, the new pre-filled nicotine salt disposable vape device that is bigger and better than ever all while maintaining its compact size and portability. It brings you rich flavors and denser clouds since the very first puff. Maskking High Pro is consists of the durable aluminum alloy which features a hand-feel paint baking machining and independent interior pod cartridge to ensure e-juice no leaking situation. Maskking High Pro is equipped with a larger built-in battery in the
Maskking High Pro, with a capacity of 650mAh and to deliver approximate 1000 puffs duration. It is one of the longest-life disposable products on the market. All Maskking High Pro devices require no maintenance, charging, or refilling. Each Maskking High Pro disposable device comes with a pre-filled 3.5ml 5% (50mg) of Nicotine Salt e-liquid that is enough to stay satisfied for the whole day. With 1.8ohm atomization coil to offer the superior MTL vaping satisfaction. Use an ergonomic mouthpiece to provide a safe and comfortable vape experience. Designed without buttons, it can be activated by simply inhaling. 12 colors represent 12 new flavors.
Blue Razz by Maskking High Pro Features:
Size:18*18*104mm
Salt Nicotine: 5%/50mg
Battery Capacity: 650mah
E-liquid Capacity: 3.5ml
Coil Resistance: 1.8ohm
Puffs: ≈1000 puffs
Pack of 1 device
Check out all Maskking disposable pods, click here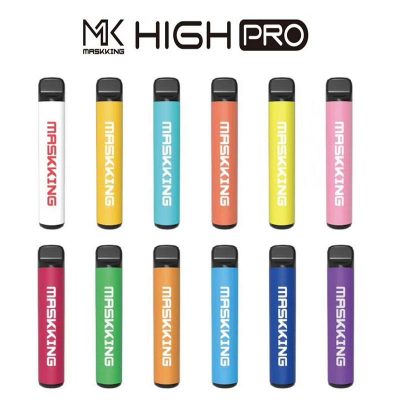 Maskking is the new era of e-cigarettes in the world. Compact, handy and very easy to use devices, have won the sympathy of tens of thousands of people.
It all began in 2003, when in Hong Kong developer Hong Leek began to work on the creation of a unique electronic cigarette. With his invention he wanted to help mankind abandon the tobacco addiction caused by regular cigarettes. Thus appeared the device based on an autonomous power supply and vaporizer system, generating nicotine vapor from glycerine liquid. Within a year after the start of the project, the company where the developer worked produced the first e-cigarette.
It is no exaggeration to call Hong Leek the father of vaping. Unknowingly, he completely changed the history of e-cigarettes in the world. His invention became something radically different and innovative, later gaining mass acceptance.
The main idea of the appearance of Maskking was to combine in a small device maximum comfort and pleasure. This is modern technology, thought-out to the details of the body, compact disposable electronic cigarettes that do not require recharging and cartridge changes. And the variety of flavors will satisfy even the most demanding: from classic tobacco flavors for conservatives to exotic mango with ice for those who like to experiment.
What are disposable Pod Systems:
Disposable e-cigarettes are the easiest devices on the market. Each disposable vape comes 100% ready to go, straight out of the box. With these devices, you don't have to worry about refilling your juice, charging the device, or literally anything else. Just use the e-cigarette until it runs out of juice. Once the juice is gone, the device is done with – just toss it out and pick up a new one! It really can't be any simpler than that.
Another bonus is that these disposable units offer a remarkably similar experience to smoking. While many experienced vapers opt for more complex and customizable vape options, the disposable e-cigarette will often play an important role in the transition from smoking to vaping.
Whether you're a beginner looking to give up smoking or a vaping veteran picking up some easy-to-use portable e-cigarettes, you'll find exactly what you're looking for right here. We carry all the leading disposable vape systems from Sig, Myle, Dinner Lady, Maskking, Tugboat and more. From pineapple lemon to traditional tobacco flavors, there's a disposable option for every palate, lifestyle, and vaping preference.